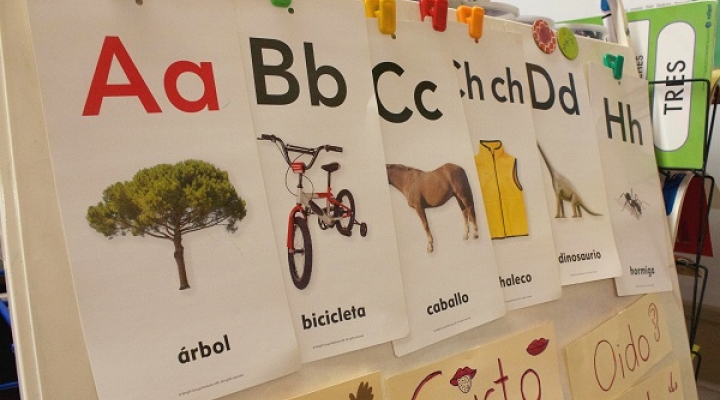 Dual Language Program | Programa de Lenguaje Doble
Dual Language Program | Programa de Lenguaje Doble
Archbishop Borders School has the honor of being the only dual-language, Spanish-immersion school in the Archdiocese of Baltimore. As part of our commitment to the development of our dual-language program, we have partnered with the Roche Center of Boston College as part of their Two-Way Immersion Network for Catholic Schools (TWIN-CS). Through membership in this network, Archbishop Borders School receives professional development for our faculty and guidance in program development. To learn more about the TWIN-CS program, click here.

Our Dual Language Program is an additive bilingual program where bilingualism, biliteracy and biculturalism are the focal points for the development of the learner. In the Dual Language Program, the language majority students (in this case, English) and the language minority students (in this case, Spanish), are served in the same classroom. Both groups of students share the same instructional strategies either in English or Spanish, to promote learning and cross-cultural cooperation. For a child enrolled in our program from PK4 or Kindergarten, the expectation is that he or she will have acquired an advanced level of proficiency in a second language (Spanish or English) and have fully developed his or her primary language (Spanish or English) by 5th grade. Through the Dual Language Program, the students understand and appreciate the cultural differences and perform at high levels of academic rigor. In Middle School, the students "refine" the academic language through some content classes in Spanish or through Literature and Grammar.
For more information about our program, please email Mr. Guillermo Brown, our Dual Language Curriculum Director, at gbown@abbschool.com.
---
La escuela Archbishop Borders es la única escuela de inmersión en español en dos idiomas en la Arquidiócesis de Baltimore. Como parte de nuestro compromiso con el desarrollo de nuestro programa de lenguaje dual, nos hemos asociado con el Roche Center of Boston College como parte de su Red de Inmersión Bidireccional para Escuelas Católicas (TWIN-CS); a través de la membresía en esta red la escuela Archbishop Borders recibe desarrollo profesional para nuestros profesores y orientación en el desarrollo del programa. Para obtener más información sobre el programa TWIN-CS, haga clic aquí.

Nuestro programa de lenguaje dual es un programa bilingüe aditivo en el que el bilingüismo, la alfabetización bilingüe y el biculturalismo son los puntos centrales para el desarrollo del alumno. En el Programa de Lenguaje Dual, los estudiantes de mayoría lingüística (en este caso inglés) y los estudiantes de minoría lingüística (en este caso español) se encuentran en el mismo salón de clases; ambos grupos de estudiantes comparten las mismas estrategias de instrucción, ya sea en inglés o en español para promover el aprendizaje y la cooperación intercultural.
Para un niño inscrito en nuestro programa de PK4 o Kindergarten, la expectativa es que él o ella adquiera un nivel avanzado de competencia en un segundo idioma (español o inglés) y haya desarrollado completamente su idioma primario (español o inglés) para 5to. grado. A través del Programa de Lenguaje Dual, los estudiantes entienden y aprecian las diferencias culturales y se desempeñan en altos niveles de rigor académico. Durante secundaria los estudiantes pulen el lenguaje académico a través de clases de contenido en español o mediante literatura y gramática.
Para obtener mayor información sobre nuestro programa, envíe un correo electrónico a Guillermo Brown, Director del Curriculo Bilingue, gbrown@abbschool.com.