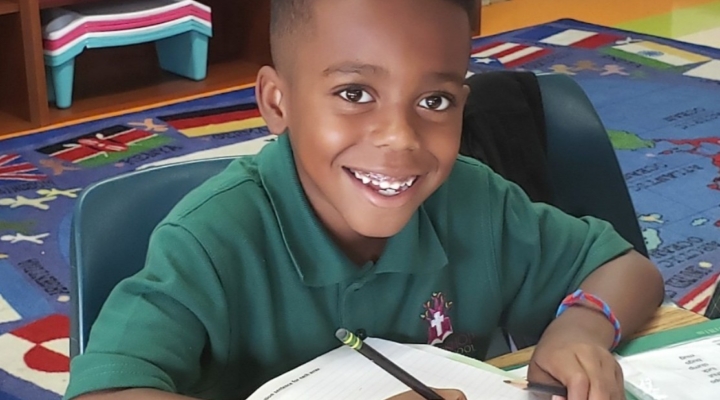 Resources | Recursos
Calendar
Parent and Student Handbook
2021 2022 Parent-Student Handbook English

Lunch Menu
PowerSchool
PowerSchool allows parents to keep current with their child's progress by viewing grades online. See how to set up a parent access account to view your student's grades and assignments on PowerSchool, or how to add a child to an existing PowerSchool account.
FACTS
FACTS will continue to serve as the preferred provider for financial aid and tuition management service within the Archdiocese of Baltimore. All families are required to sign up and make payment through FACTS utilizing automatic payments (EFT) from a bank account, credit card, or processing checks sent to a secure processing center. Easy and convenient online registration will be available.
Child Nutrition
We are excited to offer free breakfast each day to all of our students as part of our program. For the 2021-2022 school year, we will also offer a free lunch to all students. For pricing information, click here.
Home & School Association
The Home & School Association binds parents, students, and teachers more closely in a formal association. Parents are encouraged to attend the scheduled meetings during the year, participate in volunteer events, or attend fundraisers for the HSA.
For more information, please email HSA@abbschool.com
Parent Volunteers
The mission of our school is to work with the parents in order to educate the students. There are numerous areas and activities where parents may volunteer to help the school. Parent volunteer opportunities exist both during the school day and outside of school hours. It is hoped that each family can find some area or activity to meet this need.
VIRTUS
All volunteers who work with students at ABS must complete VIRTUS, the Archdiocese of Baltimore compliance management system for child protection.
Uniforms
Please visit our uniforms page for more information.
AdvancED
All Archdiocesan high schools and elementary schools are accredited as a system through AdvancED. Each school is evaluated based on the National Standards and Benchmarks for Effective Catholic Elementary and Secondary Schools.
Archdiocesan Collaborative School
An Archdiocesan Collaborative School (ACS) is a model of shared governance developed by the Archdiocese of Baltimore. The ACS model utilizes a shared governance model that fosters unity through the collaboration of stakeholders in support of Catholic schools. The model allows decisions regarding day-to-day school operations to be made at the local level, while individual schools and school administrators are supported centrally from the Department of Catholic Schools and the Catholic Center's Central Services in areas such as academics, finance, development, enrollment management and marketing. Currently, there are 21 schools across the Archdiocese of Baltimore that operate under the ACS model.
Positive School Environment
To foster a positive school environment where all students are educated in a safe and caring atmosphere, all Archdiocesan schools will follow established procedures for prevention and intervention for bullying, harassment or intimidation.
Positive Behavioral Intervention & Supports (PBIS) has been implemented in every Archdiocesan elementary and high school to enhance academic and social behavior outcomes for all students.
Hours of Operation
For information regarding school hours, summer office hours, and extended care hours, see Hours of Operation.
Merchandise
Click below to purchase ABS T-shirts!
---
Encuentre todo lo que necesita para mantenerse al día con lo que sucede en la escuela. Tenga acceso a formularios, listas de útiles, información sobre ayuda financiera, Asociación de Padres de Familia y más.

Manual para Padres y estudiantes
Manual En Español Para Padres y Estudiantes
Calendario Escolar
Formularios y Documentos:
Medical:
Puede descargar el Manual del Estudiante, los Formularios de Inscripción, voluntariado, médicos, acondicionamiento físico, servicios de After Care, clubs, entre otros; haciendo click aquí.
Formularios De Salud 2021 2022
PowerSchool
PowerSchool permite a los padres mantenerse al día con el avance de sus hijos al ver las calificaciones en línea. Configure su cuenta de acceso para padres para ver las calificaciones y tareas de su estudiante en PowerSchool, o cómo agregar un niño a una cuenta existente de PowerSchool.
FACTS
FACTS Se requiere que todas las familias se registren y realicen pagos a través de FACTS, utilizando pagos automáticos (EFT) desde una cuenta bancaria, tarjeta de crédito o cheques. El registro en línea es sencillo y está disponible en cualquier momento dentro del plazo indicado.
Nutrición infantil
Nuestro colegio brinda desayunos a todos nuestros alumnos como parte de nuestro programa. Además, también tenemos opciones de almuerzos. Para obtener información sobre precios y calendario actualizado, haga clic en here.
Asociación de Padres de Familia
La Asociación de Padres de Familia, une estrechamente a padres, estudiantes y maestros, a través del desarrollo de actividades. Se invita a los padres del colegio Archbishop Borders a participar de las reuniones programadas durante el año.
Para obtener más información, por favor contactarse: HSA@abbschool.com
Voluntariado de padres
La misión de nuestra escuela es trabajar con los padres para educar a los estudiantes. Existen numerosas áreas y actividades donde los padres pueden ofrecerse como voluntarios para ayudar a la escuela.Las oportunidades de voluntariado para padres están durante el día escolar, como fuera del horario escolar. Se espera que cada familia pueda encontrar algún área o actividad para satisfacer esta necesidad.

VIRTUS

Con nuestro compromiso de larga data en mente, todas las parroquias y las escuelas católicas de la arquidiócesis utilizaránVIRTUS; un nuevo sistema de gestión de cumplimiento que permitirá a todas las parroquias y escuelas facilitar el cumplimiento de los requisitos de protección infantil de la arquidiócesis para todos los voluntarios que trabajan con menores, empleados y clérigos.
Recaudación de fondos
Existen muchas formas para que las familias que forman parte de Archbishop Borders Schools puedan ayudar a nuestro colegio. Encuentre más información sobre nuestro Fundraisers.
Uniformes
Por favor visite nuestra página de uniformes para más información.
AdvancED
Todas las escuelas secundarias y primarias de la arquidiócesis, están acreditadas como un sistema a través de AdvancED. Cada escuela se evalúa con base en los Estándares Nacionales y los Puntos de Referencia para las Escuelas Primarias y Secundarias Católicas Efectivas.
Escuela Colaborativa de la Arquidiócesis
Una Escuela Colaborativa de la Arquidiócesis (ACS) es un modelo de gobierno compartido desarrollado por la Arquidiócesis de Baltimore. El modelo ACS utiliza un modelo de gobierno compartido que fomenta la unidad a través de la colaboración de los interesados en apoyo de las escuelas católicas. El modelo permite tomar decisiones con respecto a las operaciones escolares del día a día a nivel local, mientras que las escuelas individuales y los administradores escolares reciben apoyo centralizado del Departamento de Escuelas Católicas y los Servicios Centrales del Centro Católico en áreas tales como académica, finanzas, desarrollo , gestión de inscripciones y marketing. Actualmente, hay 21 escuelas en la Arquidiócesis de Baltimore que operan bajo el modelo ACS.
Ambiente Escolar Positivo
Para fomentar un ambiente escolar positivo donde todos los estudiantes sean educados en una atmósfera segura y afectiva, todas las escuelas de la arquidiócesis seguirán los procedimientos establecidos para la prevención e intervención para la intimidación o el acoso.
Se ha implementado apoyo e intervención de conducta positiva (PBIS) en cada escuela primaria y secundaria de la arquidiócesis para mejorar los resultados del comportamiento académico y social para todos los estudiantes.
Horario de atención
Para mayor información sobre nuestros horarios de atención, horarios de verano y del servicio de Aftercare, vea nuestro horario de atención.