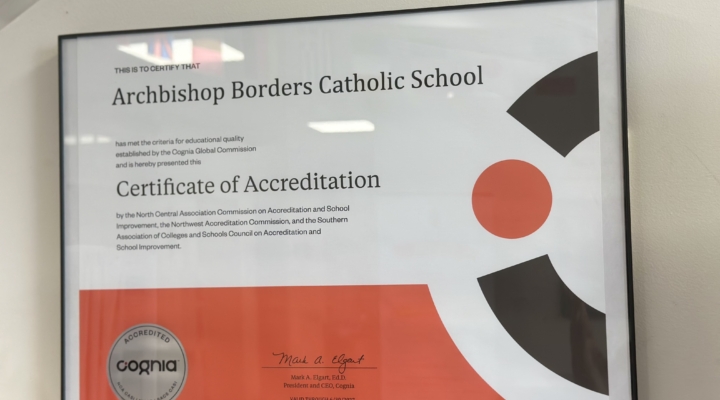 Cognia
All Archdiocesan high schools and elementary schools are accredited as a system through Cognia. Every five years, the Department of Catholic Schools completes the system-wide accreditation review, which culminates with a visit by a Cognia External Review Team. Each school is evaluated based on the National Standards and Benchmarks for Effective Catholic Elementary and Secondary Schools. These standards and benchmarks can be found at http://www.catholicschoolstandards.org.
Cognia is A Performance-based model that:
Adopts a balanced, systemic approach
Employs diagnostic tools
Uses Standards, stakeholder feedback, student performance
Focuses on evaluating performance
All schools must...
Meet Cognia Standards for Quality
Implement continuous improvement process
Update demographics
Conduct an Internal Review, which includes:

Stakeholder Feedback and Student Performance Diagnostic

Host an External Review once every five years
Respond to Improvement Priorities in Accreditation Progress Report
---
Todos los colegios de la Arquidiócesis están acreditados como un sistema a través de Cognia. Cada cinco años, el Departamento de Escuelas Católicas completa la revisión de acreditación de todo el sistema, que culmina con una visita de un Equipo de Revisión Externa Avanzado. Cada escuela se evalúa con base en los Estándares Nacionales y los Puntos de Referencia para las Escuelas Primarias y Secundarias Católicas Efectivas. Estos estándares y puntos de referencia se pueden encontrar en http://www.catholicschoolstandards.org.

Cognia es un modelo basado en el rendimiento que:
Adopta un enfoque sistémico equilibrado.
Emplea herramientas de diagnóstico.
Utiliza estándares, comentarios de las partes interesadas, desempeño del estudiante.
Se enfoca en evaluar el desempeño.
Todas las escuelas deben:
Cumplir con los estándares avanzados de calidad.
Implementar un proceso de mejora continua.
Actualizar datos demográficos.
Realizar una revisión interna, que incluye:

Comentarios de las partes interesadas y diagnóstico de rendimiento del estudiante.

Organice una revisión externa una vez cada cinco años.
Responda a las prioridades de mejora en el informe de progreso de acreditación.