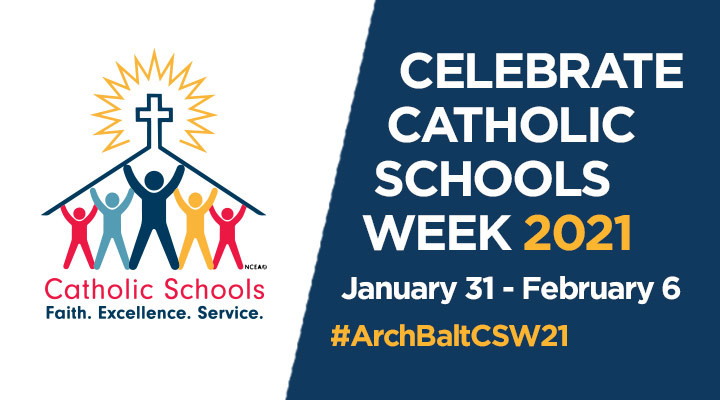 Faith
Each year, ABS joins Catholic schools around the nation to celebrate the excellent education we offer, the history of our school, the faculty and staff, and students and families. Click here to view our CSW Spirit Schedule! #ArchBaltCSW21
Sunday, January 31 Opening of Catholic Schools Week Mass
Teachers, Staff, and families attend the 9:30 a.m. mass at SHJ in English or 11:30 mass in Spanish. You may view the SHJ YouTube channel or via Facebook.
Monday, February 1 Celebrate Our Community
Community Appreciation video will be launched on this day
Spirit: Students may dress as a superhero, including our everyday heroes!
Tuesday, February 2 Celebrating Our Students
Student Appreciation items for each student including tie dye masks with ABS colors!
For remote learners, you may stop by the Highland Ave. doors between 1:00-2:30 to pick up your gifts
Music Class activity about Catholic Schools Week
Spirit Week: Pajama Day
Wednesday, February 3 Celebrating our Nations
Students are encouraged to dress to represent the colors of the US (red, white, and blue) or the colors of your family's nation.
Art class activity about the nation and Catholic Schools Week
Spirit Week: Red, white, and blue
Thursday, February 4 Celebrating Vocations
2:15 School-wide celebration of the vocations: married life, single life, and religious life.
All will attend a Zoom session as Bishop Bruce joins us!
Spirit Week: Dress as a Saint!
Friday, February 5 Celebrating Faculty and Staff
School-wide Time Capsule Creation
Spirit: Students may dress in ABS colors of purple, green, and orange!
Archbishop Borders School begins and ends its day in prayer. We ask the Holy Spirit to inspire us as we listen and write, so that we can discover more about the world around us. We also celebrate mass together and have growing service and peer ministry programs. Students in first through eighth grades attend mass weekly at Sacred Heart of Jesus Church, a thriving Redemptorist parish that has been serving the community since 1873! Students have the opportunity to grow as servant leaders in mass through altar serving, becoming a lector, gift bearing, or assisting with mass music. Students have prayer buddies, a partner from another class within the school. We incorporate many traditions from the Latino Catholic church, most notably song-filled processions for saints days, Our Lady of Guadalupe, Las Posados, Dia de Los Muertos, and Three Kings' Day.
---
La escuela Arzobispo Borders comienza y termina su día en oración. Agradecemos a Dios por hoy y las formas en que nos provee. Le pedimos al Espíritu Santo que nos inspire mientras escuchamos y escribimos, para que podamos descubrir más sobre el mundo que nos rodea. También celebramos misa juntos y tenemos crecientes programas de servicio y ministerio entre iguales. Además, incorporamos muchas tradiciones de la Iglesia Católica Latina.