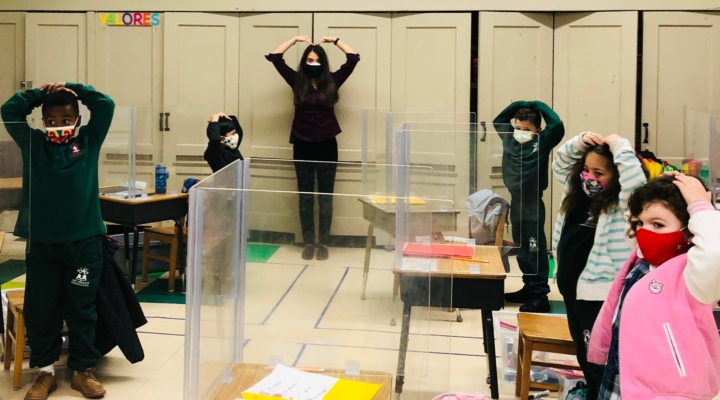 Letter from School Leadership | Carta de nuestra Directora
August 2020
Dear Archbishop Borders School Family:

I am honored and blessed to join this special learning community as the new principal of Archbishop Borders School. I share this school community's dedication in caring for our students and will provide them with a Christ-centered education that is academically strong and empowers all learners to reach their fullest potential.

I have been a K-8 educator for over 18 years serving as a teacher, math and science facilitator and principal. I am also a mother and wife. My husband and I have four children, 3 have graduated from the University of Arizona and we have one that is in her final year at Arizona State University.

The 2020-2021 school year will be my 13th full academic year in administration. I served as an elementary principal from January 2008 through June 2019 in Sunnyside Unified School District in Tucson, Arizona. I was a K-8 math and science facilitator from August 2005 through January 2008. I supported and trained teachers in curriculum and effective instruction. I also taught art to middle school and elementary students from August 2000 through May 2005.

I firmly believe that every child can reach their fullest potential, and with strong collaborative relationships between home and school we can build and foster trust and self-esteem in all students. We can nurture and sustain all God-given gifts for every member of our learning community to be used in service to the Mission of Jesus.

One unique advantage for our Archbishop Borders School is that we are developing bilingual, biliterate, and bicultural students to create a stronger sense of diversity and appreciation for all cultures while enhancing brain function and increasing learning potential and career opportunities for all our students. My goal is to advance a culture of excellence and I am committed to exploring new ideas to meet the needs of ALL students while interacting with parents and community members. We will meet throughout the year to identify and achieve specific goals for student achievement, school climate, parent and community communication.

We will have an exciting and successful school year. We will work toward reaching our fullest potential in several areas - spiritually, intellectually, physically, socially, and morally. To our parents and community members, please know that my door is always open to you. I sincerely welcome your thoughts and input as we work collaboratively to support our learning community.

Please enjoy the rest of the summer with your families taking time to play and rest. Please do not hesitate to call or email me with any questions or concerns.

Peace and blessings,

Valerie Sandoval
Principal
---
Agosto de 2020

Estimadas familias de la Escuela Archbishop Borders:

Me siento muy honrada y afortunada de unirme a esta comunidad de aprendizaje especial como nueva Directora de la Escuela Archbishop Borders. Comparto la dedicación de esta comunidad escolar en el cuidado de nuestros estudiantes, les brindaré una educación académicamente sólida, basada en los valores que Cristo nos enseñó, los cuales les brinda poder a nuestros alumnos para alcanzar su máximo potencial.

Mi experiencia en la enseñanza es de más de 18 años, como Profesora, Facilitadora de Matemáticas y Ciencias y Directora; desde Kindergarten a 8vo. grado. Soy también madre y esposa. Mi esposo y yo tenemos cuatro hijos: 3 de ellos se graduaron de la Universidad de Arizona y uno está cursando su último año en la Universidad Estatal de Arizona.

El año escolar 2020-2021 marcará mi décimo tercerco año académico completo en administración. Trabajé como Directora de primaria desde enero del 2008 hasta junio del 2019 en el Distrito Escolar Unificado de Sunnyside en Tucson, Arizona. Fui Facilitadora de Matemáticas y Ciencias K-8, desde agosto de 2005, hasta enero de 2008. Apoyé y capacité a maestros en Currículo e Instrucción Efectiva. También enseñé Arte a estudiantes de secundaria y primaria desde agosto del 2000, hasta mayo del 2005.

Creo firmemente que cada niño puede alcanzar su máximo potencial, basado en sólidas relaciones de colaboración entre el hogar y la escuela; esto nos ayudará a construir y fomentar la confianza y la autoestima en todos los estudiantes. Podemos nutrir y sostener todos los dones que Dios nos ha dado para que cada miembro de nuestra comunidad de aprendizaje pueda ser utilizado en el servicio de la Misión de nuestro Señor.

Una ventaja diferencial de nuestra Escuela Archbishop Borders, es que formamos estudiantes bilingües, con lo cual creamos un mayor sentido de diversidad y apreciación para todas las culturas, al tiempo que mejoramos la función cerebral y aumentamos el potencial de aprendizaje y las oportunidades profesionales para todos nuestros estudiantes. Mi objetivo es promover una cultura de excelencia y me comprometo a explorar nuevas ideas para satisfacer las necesidades de todos los estudiantes mientras interactúo con profesores, padres y miembros de la comunidad. Nos reuniremos continuamente a lo largo del año para identificar y alcanzar objetivos específicos centrados en el logro estudiantil, el clima escolar, la comunicación entre los padres y la comunidad.


Tendremos un año escolar emocionante y exitoso. Trabajaremos para alcanzar nuestro máximo potencial en varias áreas: espiritual, intelectual, física, social y moral. A nuestros padres y miembros de la comunidad, sepan que mi puerta siempre está abierta para ustedes. Sinceramente agradezco sus ideas y opiniones mientras trabajamos en colaboración para apoyar a nuestra comunidad de aprendizaje.

Por favor, disfrute el resto del verano con sus familias tomando tiempo para jugar y descansar. No dude en llamarme o enviarme un correo electrónico con cualquier pregunta o inquietud.

Paz y bendiciones,

Valerie Sandoval
Directora
Ready to Explore Archbishop Borders School?
Located in Highlandtown, Archbishop Borders is a private Catholic school that provides students in grades PreK through 8th grade with a dual-language learning program. To learn more about our school and the Admissions process for the upcoming school year we encourage you to contact our Admissions Office.