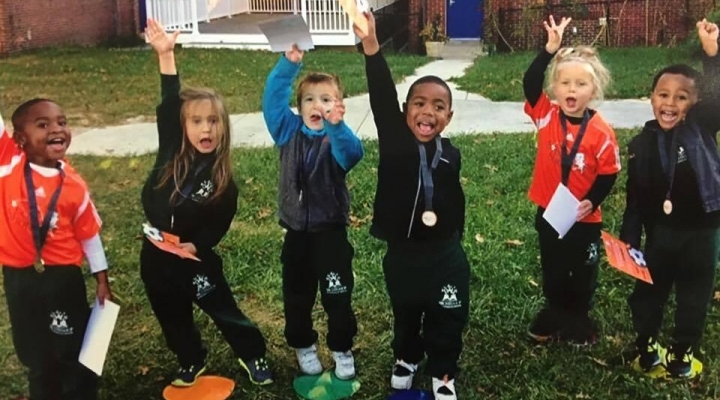 Sports | Deportes
Each trimester, we've been able to offer a co-ed soccer program for grades Pre-K 3 to 3rd. Last year we offered a 3rd-4th grade girls' basketball team, and a 7th-8th grade boys' basketball team. While we are still trying to finalize schedules and times for some of the activities, below you can find a list of offerings that will be available this year.

If you are interested in volunteering as a coach, please contact the Principal.
CYO Soccer (Fall)
More info coming soon.
CYO Basketball (Winter)
More info coming soon.
Soccer Shots (Year Long)
Soccer Shots is an outside vendor that offers on-site soccer practice for students in grades Pre-K 3 though 3rd. In the Classic program, children ages 3-5 work on creative and imaginative games that focus on basic soccer skills like dribbling, passing, and shooting. Each session also highlights a positive character trait, like respect, teamwork, and appreciation. The Premier program for children ages 6-8 focuses on individual skill, fitness, and sportsmanship, providing an opportunity for children to be challenged through fun games and team interaction. Children are also introduced to competition in a developmentally appropriate manner.
To register, please visit Baltimore.ssreg.org.
Please stay tuned for a Schedule soon.
Patterson Park Baseball League (Spring)
Archbishop Borders School has joined the Patterson Park Southeast Schools Baseball League! All practices and games will be at Patterson Park. Students are to be picked up promptly at the park at 5:30PM on practice/game days.
---
La escuela Archbishop Borders ofrece cada trimestre un programa de fútbol mixto para los grados Pre-K 3 al 3er. El año pasado ofrecimos un equipo de baloncesto femenino de 3er. a 4to. grado y un equipo de baloncesto masculino de 7mo. a 8vo. grado. Si bien todavía estamos tratando de finalizar los horarios y horarios de algunas de las actividades, a continuación puede encontrar una lista de ofertas que estarán disponibles este año.

Si está interesado en ser voluntario como entrenador, comuníquese con la Directora.
CYO Fútbol (Otoño)
Más información pronto.
CYO Basketball (Invierno)
Más información pronto.
Soccer Shots (Todo el año)
Soccer Shots es un proveedor externo que ofrece prácticas de fútbol en el colegio para estudiantes en grados Pre-K 3 hasta 3er. En el programa clásico, los niños de 3 a 5 años trabajan en juegos creativos e imaginativos que se centran en habilidades básicas de fútbol como driblar, pasar y disparar. Cada sesión también destaca un rasgo de carácter positivo, como el respeto, el trabajo en equipo y la apreciación. El programa Premier para niños de 6 a 8 años se centra en las habilidades individuales, el estado físico y el espíritu deportivo; brindando una oportunidad para que los niños sean desafiados a través de juegos divertidos e interacción en equipo. Los niños también son introducidos a la competencia de una manera apropiada para el desarrollo.
Para registrarse, visite Baltimore.ssreg.org.
Estén atentos a nuestros horarios.
Liga de Béisbol de Patterson Park (Primavera)
La Escuela Arzobispo Borders se ha unido a la Liga de Béisbol de las Escuelas del Sureste de Patterson Park. Todas las prácticas y juegos serán en Patterson Park. Los estudiantes deben ser recogidos puntualmente en el parque a las 5:30 p.m. en los días de práctica.