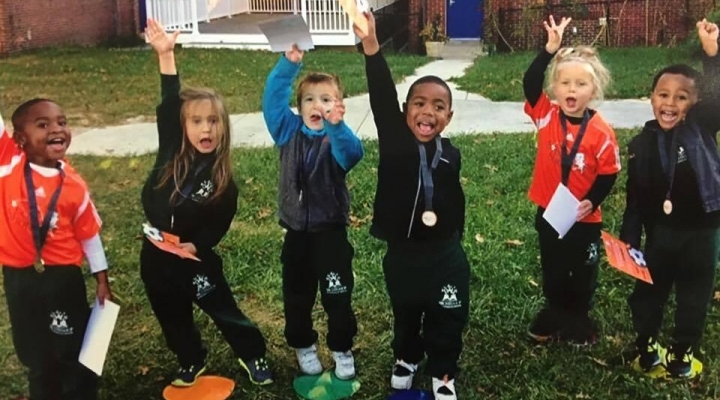 Athletics
Athletics
Archbishop Borders School has been blessed to start an athletic program this year! Each trimester, we've been able to offer a co-ed soccer program for grades Pre-K 3 to 3rd. Last year we offered a 3rd-4th grade girls' basketball team, and a 7th-8th grade boys' basketball team. While we are still trying to finalize schedules and times for some of the activities, below you can find a list of offerings that will be available this year.
If you are interested in volunteering as a coach, please contact the Principal.
---
CYO Soccer (Fall)
More info coming soon.
CYO Basketball (Winter)
More info coming soon.
Soccer Shots (Year Long)
Soccer Shots is an outside vendor that offers on-site soccer practice for students in grades Pre-K 3 though 3rd. In the Classic program, children ages 3-5 work on creative and imaginative games that focus on basic soccer skills like dribbling, passing, and shooting. Each session also highlights a positive character trait, like respect, teamwork, and appreciation. The Premier program for children ages 6-8 focuses on individual skill, fitness, and sportsmanship, providing an opportunity for children to be challenged through fun games and team interaction. Children are also introduced to competition in a developmentally appropriate manner.
To register, please visit Baltimore.ssreg.org.
Please stay tuned for a Schedule soon.
Patterson Park Baseball League (Spring)
Archbishop Borders School has joined the Patterson Park Southeast Schools Baseball League! Starting April 24th, middle schoolers will practice & play games on Mondays & Wednesdays. Due to low numbers of interested students, the middle school students will join with students from Highlandtown 237 to create a team. Starting April 25th, our 4th & 5th graders will practice and play games on Tuesdays and Thursdays. All practices and games will be at Patterson Park. Students are to be picked up promptly at the park at 5:30PM on practice/game days. The season will run through June 8, 2017.