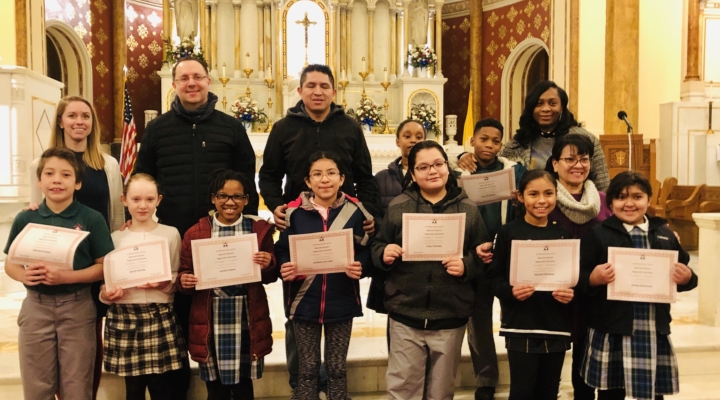 Positive School Environment | Ambiente Positivo de Desarrollo
The Archdiocesan Bullying Prevention, Intervention & Response Policy
Bullying, harassment, or intimidation of any student on school property or at a school-sponsored functions or by the use of electronic technology is prohibited in all Archdiocese of Baltimore schools. Such behaviors are contrary to school life in a Christ-centered community, which respects the dignity and uniqueness of all of God's children. To foster a school environment where all students are educated in a safe and caring atmosphere, all Archdiocesan schools will follow established procedures for prevention and intervention.

Bullying, harassment, intimidation, or retaliation against anyone who has reported these behaviors is prohibited. Students engaging in these behaviors on school property, at school-related activities, off school property, or after school hours when the behavior threatens or is likely to substantially disrupt or adversely affect the school-related environment for students or significantly impacts the interest of students or the school community are subject to disciplinary and/or legal action.
Students, parents, employees, and service providers are responsible for reporting incidents of bullying, harassment, intimidation, or retaliation. School principals will ensure that all illegal behaviors are reported to the appropriate local authorities and the Superintendent of Catholic Schools immediately.
Positive Behavioral Intervention & Supports (PBIS)
PBIS is a statewide program created in partnership with Shepherd Pratt Health System and John Hopkins University. PBIS has been implemented in every Archdiocesan elementary and high school.
PBIS is a framework or approach for assisting school personnel in adopting and organizing evidence-based behavioral interventions into an integrated continuum that enhances academic and social behavior outcomes for all students.
PBIS is a prevention-oriented way for school personnel to (a) organize evidence-based practices, (b) improve their implementation of those practices, and (c) maximize academic and social behavior outcomes for students.
PBIS supports the success of all students. We utilize the Class Dojo app to track students' positive behavior and communicate with parents.
---
La Política de la Arquidiócesis de Prevención, Intervención y Respuesta al Acoso
La intimidación o el acoso a cualquier estudiante dentro del colegio o en funciones patrocinadas por la escuela o mediante el uso de tecnología electrónica está prohibida en todas las escuelas de la Arquidiócesis de Baltimore. Tales comportamientos son contrarios a la vida escolar en una comunidad centrada en Cristo, que respeta la dignidad y la singularidad de todos los hijos de Dios. Para fomentar un ambiente escolar donde todos los estudiantes sean educados en un ambiente seguro y afectuoso, todas las escuelas de la Arquidiócesis de Baltimore seguirán los procedimientos establecidos para la prevención e intervención.
Se prohíbe la intimidación, el acoso y las represalias contra cualquier persona que haya informado sobre estos comportamientos. Los estudiantes que participan en estos comportamientos en la propiedad escolar, en actividades relacionadas con la escuela, fuera de la propiedad escolar o después del horario escolar, cuando el comportamiento amenaza o es probable que interrumpa o afecte adversamente el ambiente relacionado con la escuela para los estudiantes o que afecte significativamente el interés de los estudiantes o la comunidad escolar está sujeta a medidas disciplinarias y legales.
Los estudiantes, padres, empleados y proveedores de servicios son responsables de reportar incidentes de intimidación, acoso, intimidación o represalia. Los directores de las escuelas se asegurarán de que todos los comportamientos ilegales sean reportados a las autoridades locales apropiadas y al Superintendente de las Escuelas Católicas de inmediato.
Intervención y apoyo de conducta positiva (PBIS)
PBIS es un programa estatal creado en asociación con el Sistema de Salud Shepherd Pratt y la Universidad John Hopkins. PBIS se ha implementado en todas las escuelas primarias y secundarias de la Arquidiócesis de Baltimore.
PBIS es un marco o enfoque para ayudar al personal escolar a adoptar y organizar intervenciones de conductas basadas en evidencia en un continuo resultado de comportamiento académico y social para todos los estudiantes.
PBIS es una forma orientada a la prevención para que el personal escolar organice prácticas basadas en evidencia, mejore su implementación de esas prácticas y maximice los resultados de comportamiento académico y social para los estudiantes.
PBIS apoya el éxito de todos los estudiantes. Utilizamos la aplicacion ClassDojo para comunicar con families.