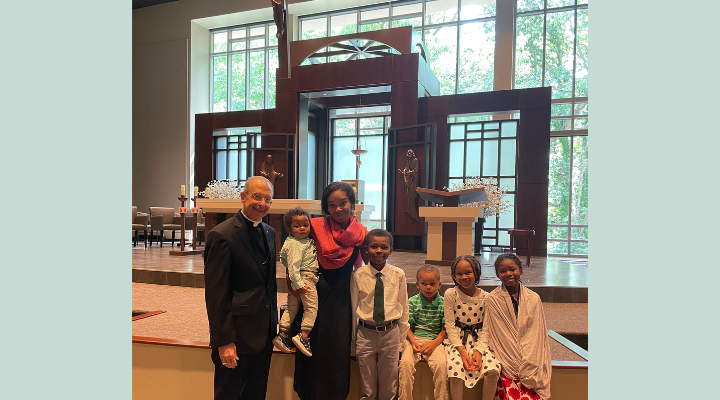 Knott Scholarship Awarded to ABS Student!
On Thursday, August 25, rising fifth grader Thomas Cudjoe, II, the oldest of the five Cudjoe children, spoke to Catholic schools educators to kick off the 2022-2023 school year. Thomas has been attending ABS since first grade, and has been awarded a Marion Burk Knott Scholarship. To be eligible for a Knott Scholarship, one must display academic achievement and be a practicing Catholic. Students must score within the 92nd percentile or above on all benchmark assessments during their fourth grade year to be considered for this prestigious award. Congratulations, Thomas!
El jueves 25 de agosto, Thomas Cudjoe, de quinto grado, II, el mayor de los cinco niños de Cudjoe, habló con los educadores de las escuelas católicas para comenzar el año escolar 2022-2023-05. Thomas ha estado asistiendo a ABS desde el primer grado, y ha sido galardonado con una beca Marion Burk Knott. Para ser elegible para una Beca Knott, uno debe mostrar logros académicos y ser católico practicante. Los estudiantes deben obtener una puntuación dentro del percentil 92 o superior en todas las evaluaciones de referencia durante su cuarto año de grado para ser considerados para este prestigioso premio. ¡Felicidades, Thomas!